Zoho CRM. Leader Software in implantations for small and medium companies.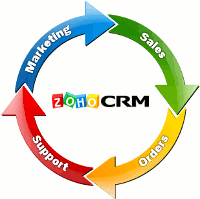 Zoho CRM is a cloud software that centralize the control of the relation with all important actors in the business process, especially with the customers,
This allows us to define workflows using different data as attracting leads, agenda control, tracking the opportunities, sales management, customer loyalty…
The CRM collects the information in a database and allows us access all historical client files, which we could see at a glance. This generates the diary of our sales force.
The tool centralizes the process of sales, marketing, services, support and management.
Zoho CRM possibilities for small and medium companies access to business process management that before were reserved to big companies cause their price and difficulty. Although it is also valid for the big companies.
Zoho CRM free available in Spanish. Ask our professionals.
Ecosystem.
Bet on a new model of agile and accessible application, Zoho CRM has a complete integration with Google Apps, Outlook, MailChimp and endless solutions. Its scalability, simple use, flexibility and low cost, convert it in a perfect software to the small and medium companies
Mobile access.
Zoho allows the access to your cloud from any device with Internet connection, also offline mode, with Apps to the main mobile operative systems: iPhone, iPad, Android and Windows Phone, freeing businesses from dependance of specific equipment, hardware and providing them with a full mobility of sales force.
Functionalities | Services | Infographic | Public | Verticals | Zoho CRM versions
Functionalities included on Zoho CRM:
Main process managed by the software and completely integrated in the platform.
| | |
| --- | --- |
| | Web form to attract leads. |
| | Tracking of commercial process. |
| | Sales opportunity management. |
| | Sales force control. Process branch. Roles and permissions. |
| | Activities, events and call record. Integration with VozIP. |
| | Budgets, purchase and sales orders. |
| | Products, stock, store management and orders. |
| | CRM marketing campaigns: mailing, social media, web chat, Google AdWords… Campaign management and ROI tracking. |
| | Communication with the customer. Send emails and possibility to send text messages |
| | Social integrations and customer support chat. |
| | Reports to business state and graphics. |
| | Standar billing. We recommend Zoho Books or Zoho Invoice to billing management. |
| | Incident management, cases and solutions. |
| | Workflows and process automation. |
The previous functions could hide or combined depending on each client need.
Consultancy services on Zoho CRM.
Conpas, like reseller and authorized partner, offer services that add value of your company software display.
We emphasize the consultory, configuration, data migration, personalize development and support.
The tool allows integration with other software, like Google Apps, Outlook, MailChimp, your ERP software or any other system
Zoho CRM is complemented with a complete application suite, with hundreds of tools that could be integrated with each other. This sets a cloud ecosystem personalized to each business.
Also Zoho has an extensive suite of applications that add to the CRM to the expand the capabilities of the software. With integration with mailing solutions, satisfaction surveys, social content manager, billing, cost accounting, project management, advanced analytics and personal management, among other options.
Conpas has an Online ERP to the full company management.
Convert Zoho CRM in an Oline ERP. 
Infographic of commercial process on Zoho CRM.
Press on the image to see increased.
To who it's aimed at?
 Software suitable for the small and medium company, because its low cost and its simple use. If you are searching a software to one organization with more than 250 employees and you need a CRM more complex, we recommend visiting our Salesforce CRM page.
Vertical sectors developed by Conpas
Fruit of the experience, knowledge of our clients, we make available our vertical developments to the needs of your sector. Enjoy the proven solutions to get substantial savings in costs and time.
Our specialized consultors advise you in all process of selecting the management tools more appropriate to your needs.
See different solutions to sectors
Logistic | consultancy and computing | telemarketing | call centers | constructors | store orders | promotions | pharmaceutical sectors | training| travel agencies
Zoho CRM versions.